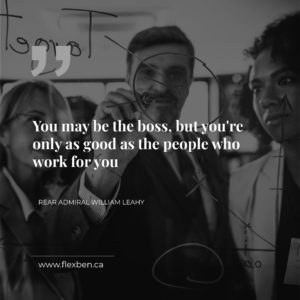 There's nothing more upsetting than having a 'know-it-all', nasty overbearing boss who believes that the reason why he's been put in charge is that he has wider experiences and knowledge when it comes to "business stuff", and that employees are just there to do their bidding and execute. Uhm, excuse me? You may be the boss, but you're only as good as the people who work for you – remember this!
Great Leaders are aware that:
1. Leadership is not a position, it's an example.
2. No Employee Involvement simply means No Commitment:
Without commitment, employees don't feel any accountability for their role in the company and the outcome of their outputs. Consequently, if things start to go wrong, they won't necessarily feel that it's their failure. Worst-case scenario, they would care less about the conflict because 'it's not their plan, they are just following orders.'
3. The staff that employers feel a sense of obligation to provide for are the exact same people that can make or break the business.
What are your thoughts? We'd love to know! Share it here.