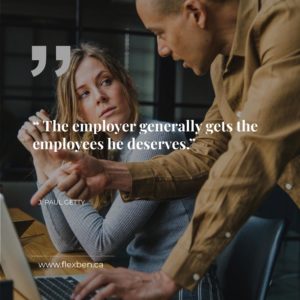 Have you heard about the old saying; "What goes around, comes around.", also known as the law of cause and effect or KARMA??? I'm quite sure that every one of us is familiar with this proverb. Well, this principle also best applies to the workplace.
Look at it this way: If you show that your employees' welfare is the least important thing, the karmic lesson that the rules you've applied to your staff will eventually end up applying right back to you – and sometimes, worst-case, it bounces back ONLY to you.
Take these questions as a sort of reflection for your work ethic:
>> Why would you want to be a good employer?
Employees are primary stakeholders in a company and these workers deserve to be managed well. If companies mistreat their employees and fail their customers, the company's power to deliver value to its shareholders and investors will be at risk.
>> Why do you think would a company look for a remarkable employee?
Because the employer generally gets the employee he deserves. Many are good employees, some are superior and only a few are doing exceptional work. Of course, you would want to do business with a person who finds ways to make greater outcomes that exceeds expectations.
I'm curious to know whether anyone else has had experiences with workplace karma? Care to share any learnings, life lessons, or thoughts? Click here.