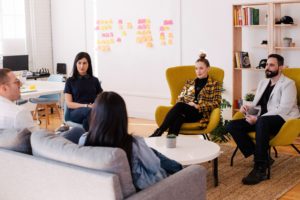 Think of the different benefits employers typically offer. These could include a retirement or pension plan, healthcare, paid time off, or maternity leave. These are designed to help your organization recruit and maintain qualified employees.
Now consider your wellness program.  Unlike all the other benefits your worksite offers, wellness programs have been studied for decades. There are hundreds and hundreds of rigorous scientific evaluations of the impact of wellness programs.
These researches are not perfect—always remember that there is no such thing as a perfect study. But after decades of scientists evaluating programs, we have an enormous amount of very solid data that shows the benefits of having a wellness program. It is this information that is used to back up the 7 most popular reasons to have a wellness program.
What Our Clients Say
"Our company was approached by FlexBEN to see if they could help us to economize our monthly costs for the company group benefits package. We found working with FlexBEN to be a very pleasant experience which realized a cost savings for both the company and employees. They were very conscientious regarding management's time when meeting to present the quotes, and always available by phone or email to answer any questions we had. Making the transition has been an easy process, with FlexBEN helping us every step of the way. We look forward to building on our group benefits package in the future, and know that we can count on FlexBEN to continue providing us with excellent, reliable advice and service. Thanks FlexBEN for helping us to reduce costs without losing any of our coverage."
M. Dennis, Group Benefits Plan Administrator
We work as a single united team with our clients, industry leading firms and outside experts in order to give our clients the highest quality advice, solutions and service possible.