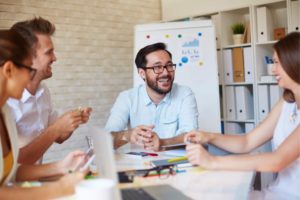 It's every manager's nightmare: One of your best employees resigns out of the blue. Right away, you've got several challenges to tackle on top of your daily responsibilities. That's why employee retention and employee job satisfaction should be high on every organization's list of priorities, and why creating effective retention strategies to decrease turnover should be one of management's most important jobs.
Always remember to assess your employee retention strategies at least once a year. You'll want to stay current on market salary rates and benefits, and best practices in developing workplace culture and manager-employee relations. Doing so will help you keep staff morale high and turnover low while guaranteeing your organization's success.
What Our Clients Say
"Our company was approached by FlexBEN to see if they could help us to economize our monthly costs for the company group benefits package. We found working with FlexBEN to be a very pleasant experience which realized a cost savings for both the company and employees. They were very conscientious regarding management's time when meeting to present the quotes, and always available by phone or email to answer any questions we had. Making the transition has been an easy process, with FlexBEN helping us every step of the way. We look forward to building on our group benefits package in the future, and know that we can count on FlexBEN to continue providing us with excellent, reliable advice and service. Thanks FlexBEN for helping us to reduce costs without losing any of our coverage."
M. Dennis, Group Benefits Plan Administrator
We work as a single united team with our clients, industry leading firms and outside experts in order to give our clients the highest quality advice, solutions and service possible.