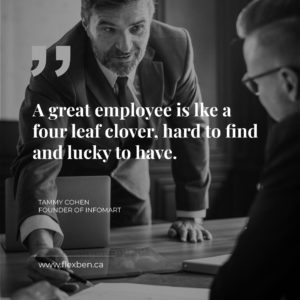 See, almost every employer aims to end up with an excellent team of employees who can work at their full potential. But unfortunately, not everyone is lucky enough to find and keep these kinds of folks. In fact, many CEOs out there see this as a growing challenge for them!
This is why a wise manager would always put his employees' welfare at the top priority list and make sure that his key assets or members feel like an important, valued member of the group instead of just another ordinary worker.
Why??? Because he knows that A Great Employee is Like A Four Leaf Clover; Hard To Find And Lucky To Have, and he believes that employees are truly the backbone of the company.
Truth is, when employees feel valued, they tend to achieve better results and exceed the expectation of their leaders. They become more empowered to hold themselves responsible for their projects and to invest their loyalty and trust in the company. And you know what's next? Empowered employees are, most significantly, happy and motivated in their roles, which means they're more likely to stay and to contribute to the success of the organization they belong to.
What Our Clients Say
"Our company was approached by FlexBEN to see if they could help us to economize our monthly costs for the company group benefits package. We found working with FlexBEN to be a very pleasant experience which realized a cost savings for both the company and employees. They were very conscientious regarding management's time when meeting to present the quotes, and always available by phone or email to answer any questions we had. Making the transition has been an easy process, with FlexBEN helping us every step of the way. We look forward to building on our group benefits package in the future, and know that we can count on FlexBEN to continue providing us with excellent, reliable advice and service. Thanks FlexBEN for helping us to reduce costs without losing any of our coverage."
M. Dennis, Group Benefits Plan Administrator
We work as a single united team with our clients, industry leading firms and outside experts in order to give our clients the highest quality advice, solutions and service possible.